Hell on earth and proud of it
Its going to be a very long day today, we depart Broome when it is dawn heading inland to Marble Bar.
It was a few minutes to 1am and I had a zoom meeting to attend with old school mates. In order not to disturb Saf who was busy catching up on some deserved sleep, I had left the comfort of the hotel room and headed to the Explorer to join my online meeting. As I walked into the hotel car park area, where the Explorer is, it suddenly dawned on me that all may not be too safe here. The warning signs were all there – the motor bikes that were sturdily chained, the thick anti-burglary irons on the windows and every conceivable space that could serve as an entry point for intruders and the thick tall wall fences. They were all grim reminders of the Lagos of the late nineties and a host of other African cities. But this is Broome, another part of the Australian story.   I looked for the presence of security cameras and became less apprehensive after seeing them. Only then did I lock myself inside the Explorer to attend my Zoom Conference Meeting.
After excusing myself from the meeting, I managed to catch some sleep only to be woken up by Saf by 8am. It was time to load up the Explorer and check out of the hotel. The drive to Marble Bar would be 7 hours, that is non-stop but that is not the way we drive. We estimate that with nature breaks, diversion to visit tourist attraction sites and lunch, it might end up being 9 to 10 hours commute. However, prior to starting on the trip, we needed to get some groceries as we are heading inland and grocery shopping will likely be non existent. It took some time but we finally drove out of Broome, heading back through the same way we had arrived the city four days earlier. We had been convinced that there would be bush tracks that would shorten our commute to Marble Bar from Broome but nothing of such existed on the Hema map that we are using. So we are back on the lonely stretch of road that connects Port Hedland to Broome, only this time we are heading southwards. There is nothing new, and the solitude on this load, punctuated in countable instances by oncoming vehicles was not of any concern again.
However, instead of going the full stretch to Port Hedland and then heading south to Marble Bar on bitumen road, we chose to take a short cut through the outback on gravel road. 50kms after the Pardoo Roadhouse, we came to a t-junction with a sign showing the road leads to Warralong Community. It was here we diverted away from the Highway to cut 86kms from our commute. Just a bit off the t-junction, we were faced with a large signboard that says "No Grog in Warralong Community, penalty in the thousands." Up until that point, I never knew the word grog existed talk-less of knowing what it meant. I later found out that it means alcohol, which touches on what I had already come to know about Australians. I am not one given to labelling a class of people but when it comes to the love for alcohol, Australians are in a class of their own. Binge drinking is a known past time for many Aussies and the government invests enormous resources to curtail the sale, access to and distribution of alcoholic drinks. Without this, the spate of vices would be tragic in the country.
A little past this point, we took to our left, following a disused track in the hope of getting to the abandoned town of Goldsworthy. The terrain was rough but the Explorer was making decent progress of about 60kms per hour. I was a little bit scared as there was no sign of any breathing, living human being anywhere in our immediate radius. I remember the iconic Australian horror film, Wolf Creek, and felt like turning back. But we were too invested in this adventure and I encouraged myself that the explorers if the late 18th and early 19th centuries didn't turn back because of fear, in fact they looked fear in the face and progressed on their mission. Our progress was hindered as we came across a road warning, placed visibly by the edge of the road. It warns boldly, reduce speed now. As if that was not enough, less than a 100m hence, we came across a similar sign warning that we should reduce our speed now. There was nothing that suggests danger requiring a reduction in our speed but seeing two warning consecutively with the same message, we did as instructed. What if these were placed by some men of ill character to make their job of robbing us easier? This was the thought in my mind when we suddenly came to the beds of a river that flows across our path. It was full of boulders and the descent into the bed would cause untold damage to any vehicle that runs into it. Now the signs made sense, were it not for them we probably would have had an accident. We came to almost a complete stop in order to navigate the stream which had barely much water flowing through it. Once on the other side, we picked up speed, driving next to a railway track. There was nothing to be seen to evidence that a town ever existed here, so we were disappointed. Unknown to us, following the abandonment of the town in 1992, all buildings were removed, all vegetation not indigenous to the local area was burnt and the roads torn up. This was done in accordance with the government's policy of regrowth to avoid the occurrence of ghost towns. With no visual building or structure in sight, we made a U turn and headed back to continue the trip to Marble Bar.
But there is a lesson to be learnt regarding the abandonment of Goldsworthy. It was established purposely to exploit the iron ore found on top of Mount Goldsworthy. Exploitation started in 1965 and ended in 1993. At its peak, it was said that about 700 people lived in 200 houses in the town. Now, with no more resources to be exploited, the town has no commercial reason to exist and was abandoned. In essence, a healthy balance sheet drives all decisions. No mining town can afford to run out of resources as there are no longer term interest once the resources are gone. If this standard is applied in Nigeria, one will question the continued existence of Oloibiri as a community, I know a few people will cry foul here but we need to continue asking ourselves the truth – what is the purpose of anything and is it still fulfilling purpose?
We were on the Goldsworthy road, unpaved but well graded. Since it was the dry season, our movement was not impeded by any storm run-offs or the waters of the seasonal streams that we keep crossing on this outback road. The Explorer was making good progress and spewing a thick cloud of dust behind it. Looking at this through the mirrors, I knew that we have one huge task of cleaning to do. The thick red dust was beginning to stick to everything on the Explorer and to prevent the dust coming into the car, we had to pressurize the cabin by putting on the air conditioner.
Cattle farming is big business here and is done on large hectares of land leased from the government. We are just within the vicinity of Mulyie homestead, also known as De Grey station. This is the earliest pastoral lease in Western Australia, dating from 1862. Formerly a sheep station, it now runs about 6,00 head of cattle in its over 200,00 hectares of leased land. As we descended from one of the hills in this area, the sound of the Explorer's engine was picked up by about 50 cows grazing in a patch on the right side of the road in front of us and immediately the cows took to their heels, scattering across the road. It was funny watching them scrambling away from us. These cattle are fat, as they ran their big thighs were thrusting in one direction with their humps going another. Cows roam around freely and, with no wild animals to harm or decimate their numbers and humans to steal them, their life concern was all about mulching grass and drinking water. This system is serving Australia well, it will be an aberration of untold proportion to see someone herding cattle across distances. In Nigeria, the topical issue has been the constant clashes between cattle herders and farmers. Though the conflict dates back to decades, it has suddenly become escalated in recent times as the Sahara continues its unabated march southwards [the drying of Lake Chad epitomizes this], increasing population bringing previously available open lands under cultivation with little left for cattle to graze on. Through its RUGA policy, the government has proposed to create reserved communities where herders will live, grow and tend their cattle, produce milk and undertake other activities associated with the cattle business without having to move around in search of grazing land for their cows. This will be similar to the farms here, on the outskirt of Port Hedland and would have brought some desperately needed peace to the country but, as with most things Nigeria, people were quick to attack the government as trying to use the policy to bring about a religious colonization of the south. The policy has been suspended, for now.
This is aborigine heartland, we soon left the town of Mirtunkarra on our right and arrived at Warralong. We didn't branch into this community which suffered a major bushfire in 2017 causing the residents to abandon it, though they were now back. This community is just about two hours drive from Port Hedland but it is far removed from the luxuries of modern Australia. Hunting Kangaroos, Camels and wild pigs provide the major protein needs of the people with bush tucker part of the diet. As with Broome, Kalbarri, Port Hedland, this also is Australia and a picture taken here could have been same with one taken from any remote African village. Though remote and often cut-off from the rest of Western Australia by flooding in the wet season, Electricity is available here as evidenced by the electric poles and the little light reflections that we could see from the distance. Facing the entrance to the community area was a pile of wrecked cars, something that left a big question mark in our minds.
A little further down the road, we left the abandoned town of Coongan on our left and soon arrived at the junction of Coongan Goldsworthy Road and Marble Bar Road, leaving the dust behind and getting on the bitumen road. Suddenly we found ourselves translated into an area of simply stunning and amazing vista. At this point, the Marble Bar Road snakes right by mountains closely hugging its sides. Everywhere we looked, nature was dressed at its best. The mountains were so close that it was tempting to reach out and touch them, unfortunately there were no side stops where we could park the Explorer to take some wonderful mountain views pictures. This portion of road ranks as probably as having the best views ofall the areas we have passed in our journey so far. The shinning steel barricade and the brilliant black colour of the bitumen suggests that the section might well have just been given a face lift . This is also road trains territory and we soon started encountering them on their journey to deliver their cargoes to the port of Port Hedlands.
Arriving Marble Bar, the city will not hold its silence as being the warmest city in Australia. One of the six signs welcoming visitors to the town says "Warmest Welcome From Australia's Hottest Town." It was as if there is joy to be classified as the most hellish place on heart because of its souring temperature. The town set a world record of most consecutive days of 100 °F (37.8 °C) or above, during a period of 160 days from 31 October 1923 to 7 April 1924. Another sign informs that the "Shire of East Pilbara Largest Shire in the World". It was as if the town is desperate to lay claim to something and wants everybody to know of its importance.
At the gas station, we stopped to ask for directions from a ruddy white girl with spotty face. Her bright yellow overall informs that she works for a nearby mine, she was all covered in dust and was about to get into her work ute when we stopped her. She was pleasant to talk to and gave us the needed direction to our caravan park where we would be spending the night in this town. By the time we pulled into the caravan park, it was full and the jovial attendant struggle a bit in order to find a space for us to spend the night. Not much later, the mining buses and utes started arriving and we found out that the park also provides camp accommodation to workers of the mines. The mines appear to own nothing here, preferring to lease most of its need and share the wealth as some will say. The vehicles are leased from Budget, the accommodation is provided and managed by the caravan park and some other contractors provide the catering. While it makes sense on the surface to share the wealth round, the experience of these small operators is that these mines are actually driving down their profits because of their bargaining power is weak when they get to negotiate with these big mines.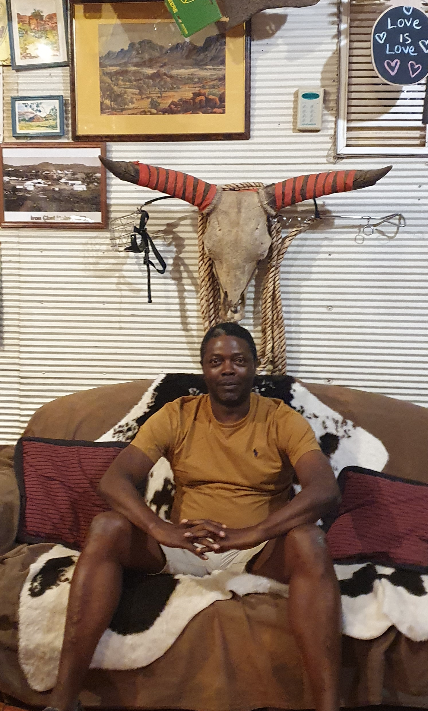 Having settled down at our allocated spot, it was time to explore the town and find something to eat. We were directed to the only hotel in town, the Ironclad hotel which has been in operation since the 1890s and is listed as an heritage place in Western Australia. It is a clean and small establishment with a front reception area that is weirdly unique in its decor. There was a sofa seat dressed up with cattle skin reminiscent of what a local king would use as his seat of authority. There were a couple of guys playing at the pool table and at the same time we arrived, another family of four were making their way into the pub for a meal. Everything here is expensive, meals, drinks, whatever. We couldn't afford the prices and had to find our way back to the caravan park to prepare a meal for ourselves.
The streets of the town were well laid out, clean, tidy and tree lined. The Ashburton Aborigine Corporation has an office here also, and as we had found out earlier in Port Hedland, it is the umbrella organization of the aborigines to manage the use of land and its resources in these areas. We walked past a community resource centre that also holds a library and then past the well-manicured green lawns of the civic centre. As we start to make dinner, we were visited by a couple, Pauline and Harrold from Balga, a suburb of the city of Stirling, the same city we live. The conversation started with him asking to know where we were from. I took him to the side of the Explorer and showed him the Nigerian map, painted over with the colours of the national flag, and asked him to guess which country it is. Unlike many folks that we had come across, he guessed it first time, Nigeria he said. I asked how he got to know that and he mentioned that he had spent some time in Ghana where he had enjoyed the legendary music of Fela Anikulapo-Kuti. With that we delved into many other issues and talked about our mutual faith, Christianity, the persecution of Margaret Court (my pastor) and then dived into a philosophical issue – should one act of bad judgement rubbish an entire life of ingenuity? We had also discussed about the conspiracy theory surrounding the disappearance of Harrold Holt, a serving Australian Prime Minister and the probability that he might still be well alive, cooling his feet off inside a Russian submarine somewhere. It was very late at night when we eventually had to say good night and he and his wife returned to their caravan. In that period we spent together, we had learnt that they come to Marble Bar on their annual pilgrimage of going up north and then coming down later to Karatha to spend significant time with their grandchildren. He had advised us that we should visit the Gold museum on our way out of town.
As we laid down for the night, I could not stop thinking about the long stretches of roads that we had driven through and the nearly total absence of accidents on the roads. Yes, we had come across a few road kills of cattle and Kangaroos but have not seen any motor vehicle accidents. I could only conclude that this is a testimony to the importance of road furniture and driver education. Even in the most remote areas, the roads are well sign posted and danger warnings are provided. Investing in these infrastructure has curtailed continued operating expenditure on policing, compliance enforcement, accident evacuation and hospitalization. I was convinced that my father would probably still be alive today if this same were available on the Daura road where he met his death in 1976 by driving off the bridge into a flowing river. The same story will hold true for many other people who have lost their lives on Nigerian roads.