My Lagelu Years – Part 3
My love for education was forced, it did not come naturally. In the face of the alternatives I had, it quickly dawned on me that education was the only path way to climb out of the miry clay in which I was.
Right in front of our compound was a mechanic workshop. It was owned by two friends and aptly named Ṣẹ̀mi n'biọ́ (If you offend me, I will ask you why), A childhood friend of mine was undergoing apprenticeship there and I spent a lot of time with him, after school hours. Watching him removing car tires, opening up vehicle engines and seeing him being beaten when he does some silly things gave me the negative motivation that I needed to focus on my academics. I knew I wasn't tough enough to bear the same punishments that he was receiving!
I had three subjects that interested me in Lagelu – Literature, Biology and Geography. Mathematics was to become a favorite subject later. I considered myself good in these subjects though I enjoyed English Literature the most. It was this subject that took my youthful mind through plays, poems and stories written by African and European Writers. We went through Tell Freedom by Peter Abraham's, through Poems written by JP Clark, through the Shakespeare plays such as Merchant of Venice, Macbeth etc, "Things Fall Apart" by Chinua Achebe, "Mayor of Casterbridge" by Thomas Hardy, Soyinka's Trials of Brother Jero and more.
My circle of friends was voracious, we read more than the prescribed texts! We read all the books in Eric Blyton's Famous Five, all the James Hadley Chase books, the Iam Fleming's James Bond novels. It was from here that we caught the catchphrase "Shaken, not stirred". We appropriated this to ourselves saying "I was shaken, not stirred". We also caught the romance fever that the Mills & Boon novels provided. As we became older, we were introduced to the works of the African Writers Series such as Kenneth Kaunda's "Zambia Shall Be Free", Ngũgĩ wa Thiong'o's "Weep Not, Child" and T.M Aluko's "One Man, One Wife". The icing on the cake were the Macmillan Pacesetter Novels. They were to us what video games are to the present Gen Z. Pacesetter Novels are not created equal, that is a fact that was known to very few of us. Dickson Ighavini's "Bloodbath At Lobster Close" was not on the same pedestal as Helen Ovbiagele's "Forever Yours". There were the more sought after titles like "The Equatorial Assignment" by David G. Maillu, "The Black Temple" by Mohmed T. Garba, "Death Is Woman" by Dickson Ighavini and "Mark Of The Cobra" by Valentine Alily
Obviously we couldn't afford to buy all these books and our school library didn't stock them. The plan became buying one title (for those in the know, the popular ones) and exchanging with many others for their own titles. My young mind was being fed with tales and ideas from many lands, I started to see the world differently. Different from my circumstance and the environment in which I was being brought up. I warmed up to what lay on the other side of the Atlantic.
My interest in books was further helped by an inheritance that came my way unplanned. Father did not have many possessions when he died. He had the Lada Car, a few household items and some balance in his account with the Bank of the North, an amount that never was to be received by any of us because he died intestate. Of all these, I received three (3) pieces of Agbada that were obviously of no use to me because they were oversized. But I also inherited something else, a wooden box full of books. Well, this was not particularly given to me, it was abandoned in the house and was of no interest to anyone else, not counting the rats that had made a hole through the wood and turned the box into their abode. I can't remember how and when I became interested in the box but I soon found it a goldmine – the panacea to many of the things I was struggling to comprehend in school. It was in this box that I found useful textbooks on Quantitative Reasoning, Larcombe's Arithmetic, a compendium of plays by Shakespeare, one of the best Biology book ever written and books on poems and many more. I also found some texts on Calculus, Algebra and Geometry, books that were later to become very useful to me as I pursued my Higher School Certificate in Government College Ibadan.
Another helpful event, in some ways, was the opportunity I had to spend my vacation at the end of my second year in Lagos with my mum and her brother, Uncle Yisa. He had just bought a brand new Volkswagen 1500cc then and drove to Ibadan to pick me up in the car to Agege. I was looking forward to a fun-filled holiday but I got something else. On reaching Agege, he gave me the New General Mathematics Book 3, the same text we would be using the next year in school. Each day, before he leaves for work, he would mark out 50 questions that I must answer before he comes back in the evening. He would work me through the problems, if I get them wrong but punish me severely if I did not attempt them. He grilled me through all the knotty questions, spending most evenings going through examples and working the corrections with him. Looking back, this in addition to the "Trachtenberg Speed System of Basic Mathematics" by Jakow Trachtenberg that I found in my father's wooden box, spurred my interest in numbers.
Following my awful experience in boarding school and the temporary relieve provided by Uncle Raufu, I was considered grown-up enough to trek to Lagelu from Oke-Labo each school day. I was back in the care of my grandmother, ably assisted by innumerable uncles, aunts, cousins all living within our agbole (neighborhood). We would wake up by 5am, we needed no alarm bells as the Muslims call to prayer that blasted out through speakers positioned in the minaret of the three mosques that surrounded us was enough to pull anyone out of coma. Drowsily, we make it upstairs to the parlour where we were made to sing hymns, do praise worship followed by Bible reading and prayers. After this, we would make trips to the community water taps, when public water was running otherwise to the wells, or the river, depending on how scarce water was. The very diligent of us kids would have done this the night before but for me, and some others, it was better left to be done early in the morning before schools.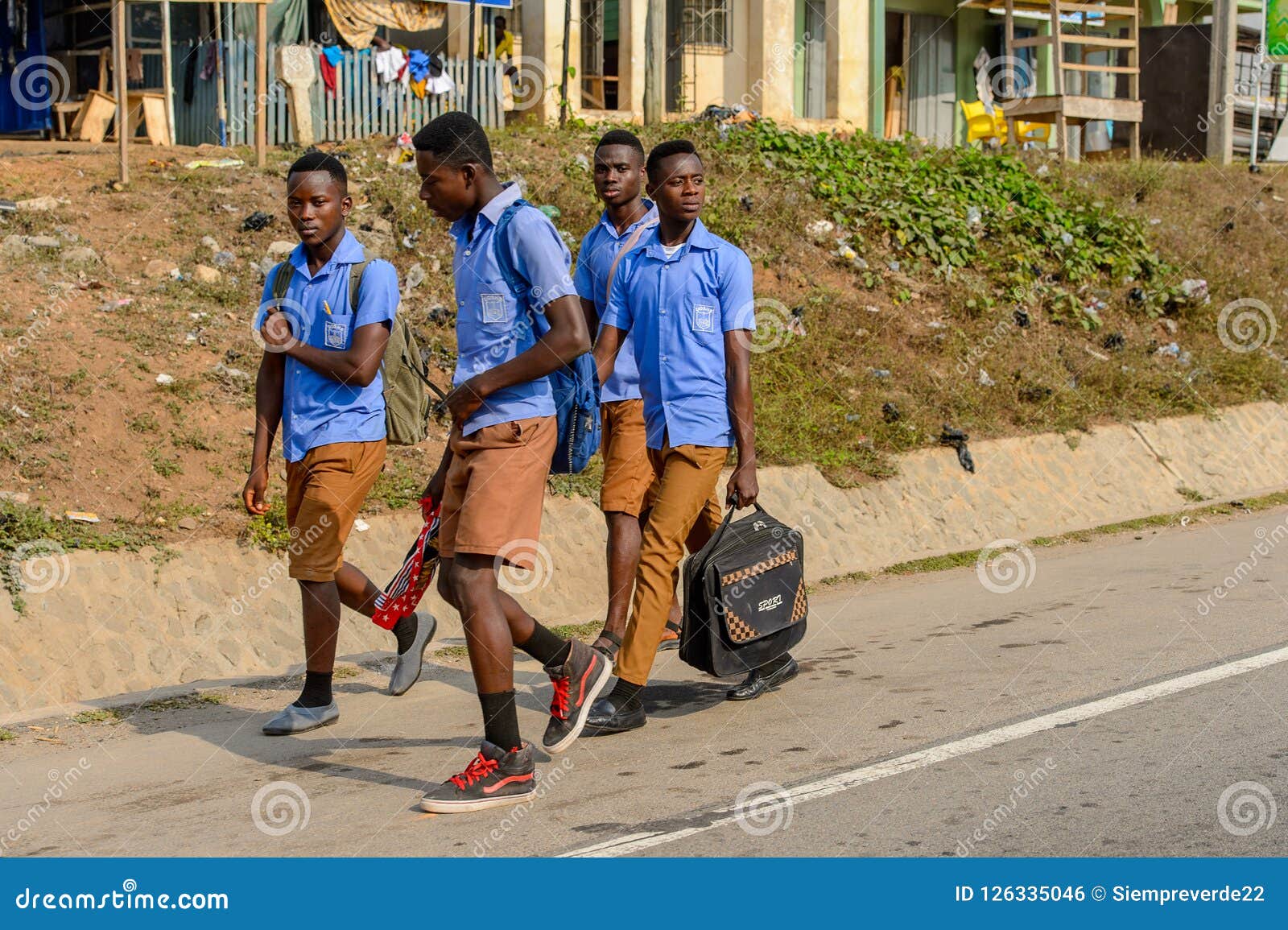 The trip to Agugu would start at between 6.30am and 7am, when I step out of the house, all alone. Across the road lived Shina Adeoti, who would join me as we walk through the many Agboles that were in Ibadan. Going by the back of Wesley College, we will wade through the stream (that was until a pedestrian bridge got erected) and surface on the other side to join Sunday Oyebola. From here, we continued the trip through the back of Adekile Goodwill Grammar School and through the Aremo Church burial ground, across the Aremo River. There was a particular year that Ibadan witnessed one of its perennial flood and the bridge across the river had been carried away, it was divine protection that saved us from being swept away while crossing that river.
We would buy puff-puff, buns, fried fish and anything we could afford on the way to school and share amongst us. By the time we reach Aremo, there would be many more kids of our age in other school uniforms on their way to school as well. Passing Renascent High School, we will eventually burst out somewhere in Agugu. And it was here that the real fun begins, as we take our breakfast. There were a few canteens selling Iresi, Adalu Ewa, Buredi and all sorts. These canteens were busy and always facing shortages of serving plates. It was normal for us to pick a dirty plate, wash it and scuffle with other kids, pushing our plates as far forward as we could reach towards the food seller while shouting our order. These were some of the best foods that we ate as teenagers. It was only after this that we would now complete the last leg of our journey to school, a short walk through the bush pathway on the expansive school compound, first to get to class to drop our bags and then to the school assembly. Most days we got to school early but on some we would be late. The idea then is to sneak to assembly unnoticed, while evading being arrested by the retinue of tutors and monitors spread across the many pathways to catch late comers. Being late had stiff consequences. There were weeds all around the school always in need of cutting. With no lawn mower or any mechanized help, the late comers were assigned the tasks of cutting these with àjáàgbá (slim cutlasses).
At break time, we would all flock our different ways depending on our social-economic status – the ajebotas (rich kids) to one side and the ajepakos (poor kids) like me to the bush path, at the side of which Ìyá a'lánàmá cooked recently harvested iṣu (yam), èsúrú (bitter yam) and ọ̀dùnkún (sweet potatoes) all in one big cauldron using fire wood. Depending on the fruit available in the season, we get to buy Mangoro (Mangoes) , Oro, Agbalumo (African Star Apple) etc.
It was in our third year that we got offered three pathways – to become science, social science or art students. Everyone wanted to be a science student, the families expected us to become Engineers, Doctors and the like. No regard wad paid to those wanting to be anything else. It was at the end of that year that I faced my defining moment. For some reasons, which I can't fully explain now, I had wanted to become an Aeronautical Engineer. However, my performance in the final examinations in year 3 was not good enough. I had done well in only Biology, had passable marks in Physics but woeful in Chemistry. The school had a requirement that each student must pass these three key subjects to be allowed to pursue science, I had not met that requirement. I convinced my mother to come to school with me to make the school to waive this requirement for me. During the meeting, the teacher explained my performance to my mum and explained that I was better as a Social Science student than a science one. However, if she was insistent, the school would allow me to pursue the science path. I was happy but this was to be temporal – my mother failed me. She supported the school`s decision and asked that I be placed in the programme that best aligned with my performance. My own mother! I couldn't believe she would do that.
We had some great tutors. The Vice Principal, who taught us Biology, was one. His mnemonic, regarding the heart valves, still rings in my ears today. RA LA, RV LV, he taught us, demonstrating as a Soldier to the matching tune Left, Right, Left, Right, Left Right. He taught us to remember RA is for Right Auricle and LA for Left Auricle and in similar manner Right Ventricle and Left Ventricle. We also had the Youth Corper that taught us Geography, stunningly beautiful. I can still picture her teachings on the life stages of a river . Then there was our literature classes, which I already wrote about.
And there were others, not so great. The tutor that taught us Yoruba made me to hate the subject and I had to withdraw from the class. Economics was made very strange and in this I just followed the "Kramers Method" by cramming all that I could apart from the very first lesson on scarcity – Human wants are insatiable and there are limited resources.
Many other things happened but before we knew it, we were getting to our final year. It was the penultimate year that another unplanned event was to alter the course of my life – I met one of our seniors who was known as "Accountancy". Prior to this meeting I never knew who an Accountant was talk less of having any interests in becoming one. This gentleman, who went on to become an accomplished Accountant working for Wema Bank slept and talked of nothing else but Accountancy. I admired him as a person first and then decided that if it was good enough for him to aim at becoming an Accountant, same was good enough for me too. It was an easy decision because, prior to that, I was drifting aimlessly between being a Town Planner or an Archeologist, without even knowing what an archaeologist does. The path towards becoming an Aeronautical Engineer had since been closed by the singular action of my mum earlier in Year 3.
It was time for us to sit our final examinations, the much dreaded West African School Certificate (WASC) examination. But first, we were to sit the mock examination, organized by the school to assess our level of preparedness for the WASC. Tutorial classes were organized for the difficult subjects like Mathematics and these were to start early each morning by 7am before regular classes. The commute from Oke-Labo became very difficult as I had to step out of the house as early as 5am. More so, Sina Adeoti, my classmate for the commute had died by now. Passing through the Aremo burial ground in the wee hours of the morning was very frightening to me, I was afraid that some ghosts of those buried there would attack me, yet I had to do so daily in order to attend the tutorials. As we were preparing for the examination, the duo of Buhari and Idiagbon promulgated Decree 20, the dreaded Miscellaneous Offences Decree promising a 21years imprisonment as punishment for anyone caught cheating in examinations. We were all scared as we cramped into different halls and classes for the examination. The invigilators, mostly our teachers abandoned us as Jesus was on the cross, we were there on our own sweating it out. As expected, I found the English Literature, Biology, Mathematics and Geography examinations easy while I struggled with Commerce, English, Economics papers.
I knew not much about what the world held for me after college, much was not expected from me either. I knew nothing about the Joint Admission and Matriculation Board (JAMB) entry examination to Universities and Polytechnics and neither did anyone in my family do, so we never procured any admission forms in my final year. But, we did something right, GCE forms were procured, in the highly likely expectation that I would not have performed well in the WAEC exams.
When the announcement came that the results had been released, I was not particularly enthusiastic. Finally, I showed up, queuing in front of the office of Reverend Omotoye, the Principal, who insisted on checking that I was not in any way indebted to the school. I got my testimonial, it was a fair reflection on my academic and extra-curricular performance and then the statement of my WAEC result. I was jubilant, I had gotten the six credits and two passes. I did not have any distinction but the result I got would gain me admission to any institution of higher learning in Nigeria but, alas, I had not applied for any.
As we walked home that day, it was a case of sadness and joy. For the not so many that have done well, they were offering comfort to and cheering their mates up. One thing that we all missed that day was the certainty that, for many of us, our paths way not likely cross again. There were no phone numbers to exchange nor email addresses, these communication means were not available to us, so to our different parents we returned. For me, at Oke-Labo, my illiterate grandmother only asked whether I passed, there was no special feast or fanfare. Uncle Jimi was unconcerned, my brother Yinka was not around and Uncle Soba, on visiting days later, was annoyed a bit that I had no distinctions "like the other boys". Mother got to know about the results only when she visited a month later.
Now with the result in hand, I procured late admission forms to the Oyo State College of Education and then to Government College Ibadan for the GCE A Levels. Both admissions came through and the family's decision was for me to go for the National Certificate in Education (NCE). The choice was not surprising, teaching was a family profession with the Bakares. My father, uncle, mother, brother were all teachers, so there was not an expectation for me to follow a different path.
I was rebellious, I had other ideas, and chose to attend Government College Ibadan for the two (2) year Higher School Certificate, studying Mathematics, Geography and Economics at the Advanced Level.